Stair Runners
Visit our newly renovated stair runner section in our showrooms to view our vast collection of textured, patterned, luxurious velvet & designer carpet ranges.
Carpet stair runners give that extra wow factor to your entrance hallway. Our experts are here to help you design your bespoke stair runner. You can choose the colour border or thread binding you want and you can also add stair rods available in a variety of finishes.
We can also order rugs personalised to your design and size.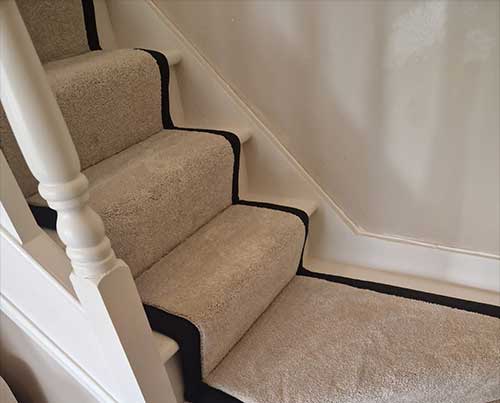 View the Doherty Flooring Stair Runner Gallery
Laminate Staircases
We offer a large selection of matching laminate stairs from Whiteriver & Quickstep. If you are looking for a simple and stylish way to upgrade your staircase, laminate staircases are an efficient solution.
Contact Us Or Visit Our Showrooms
We would love to talk to you and discuss your flooring needs.